A selection of wines due out from September onwards
With harvesting still ongoing, supermarkets will be showcasing their selection of Bonfils wines starting at the beginning of September with the autumn in-store wine festivals. From September 7, Intermarché stores will be turning the spotlight on Château Capitoul wines under the OROS, Grand Terroir and Maëlma labels. The latter of the three holds the promise of an outstanding wine sporting an appealing dark Burgundy hue, with distinctive aromas of black cherry, raspberry, blackcurrant and delicate smoky notes. For Château Vaugelas, which the 2021 Guide Hachette des Vins described as "the reliable choice of Corbières", the V and Excellence labels will be featured. Finally, the prestige wines Château l'Esparrou Bel Été and Excellence along with the red Château Villerambert – Excellence, a top Minervois lifted by spicy, oaky notes, will also be part of the line-up.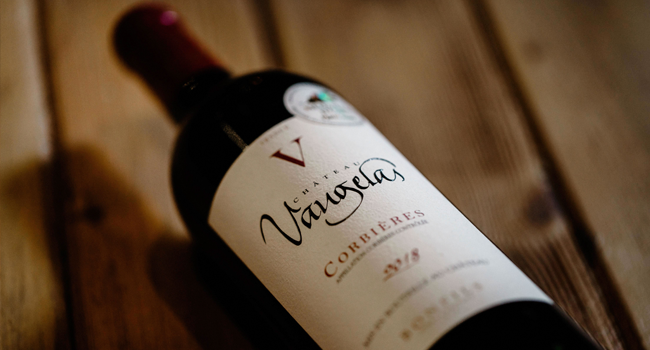 Starting September 10, the autumn wine festival in Auchan supermarkets will be listing the Château Millegrand staple – its Fût de Chêne oak-aged bottling – which was awarded a Gold Medal at the 2020 Independent Winegrowers' Competition. Enjoy the peppery flavours and softly-textured Syrah with a varied choice of cheeses.
If Château l'Esparrou – Le Castell, similarly awarded a Gold Medal at the Independent Winegrowers' Competition, piques your curiosity, be sure to take a trip to Netto supermarkets from 2 to 19 September. A slightly longer wait is needed for the red Château Vaugelas – V, awarded a Gold Medal at the Concours Général Agricole and a Guide Hachette favourite pick, and the Capitoul – Lycia rosé which will round off the summer beautifully with its fresh, fruity characters, both of which will be available in Cora stores starting September 15.
The Autumn Wine Festival continues into October
And as September is only the start of the autumn season, the wine festivals continue into October. In Carrefour hypermarkets, from 28 September through to October 11, and at Carrefour Market from 7 to 24 October, if you haven't already tried them, go for Domaine de Cibadiès signature wines – the Vermentino and the Chardonnay – which came away with some great gold and silver medals at the International Competition in Lyon in the spring.
The multi-award-winning red Vaugelas - V will once again feature in the selection, as will the Le Castell label by Château l'Esparrou, Fût de Chêne by Château Millegrand, OROS wines and the red Grand Terroir by Château Capitoul, awarded a Gold Medal at the Concours Général Agricole and a star by Guide Hachette.
The autumn wine festivals therefore offer not only the ideal opportunity to discover Vignobles Bonfils' award-winning wines but also a unique chance to try its top-end bottlings.
For more information about selected wines, join Vignobles Bonfils on social media via Facebook and Instagram.