We are extremely proud to be able to share the Guide Hachette 2021 awards list with you.
Five of our wines were showcased in three flagship Languedoc-Roussillon appellations and we achieved the ultimate accolade as the Guide's 'reliable choice' for Château Vaugelas wines!
Our efforts to bring out the finest qualities in the vineyard sites of Languedoc-Roussillon are relentless and have been for six generations. Recognition of our hard work by the Guide Hachette is a genuine honour for us, it legitimises it and gives us the motivation to continue so that we can provide wines for pleasure showing finest sense of place.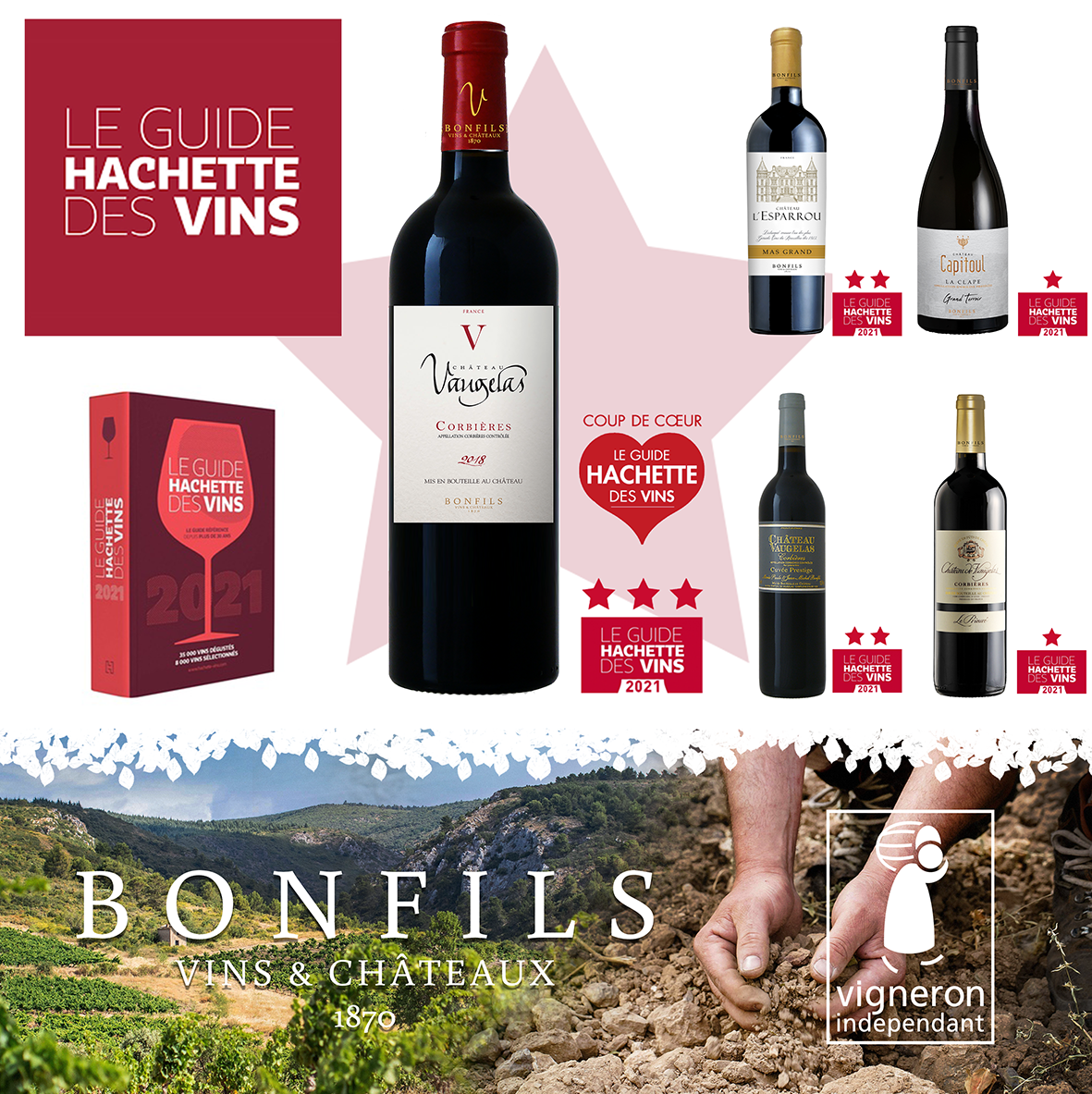 COMMENTS FROM THE GUIDE
Vignobles Bonfils – Château Vaugelas
AOP CORBIÈRES
Created by Benedictine monks from Lagrasse abbey, this ancient and extensive estate (200 ha of unbroken vines) is mainly located on a terrace of pebbles from the Orbieu. Purchased by the Bonfils family in 2000, it has become the Guide's reliable choice.
Vignobles Bonfils – Château l'Esparrou
AOP CÔTES DU ROUSSILLON
Built at the end of the 19th century by the Danish architect Petersen, like those of Rey, Valmy and Aubiry, this chateau is surrounded by extensive grounds just a stone's throw from the beaches and Canet lagoon. The 62-hectare vineyard covers the tip of a vine-clad, pebble-strewn plateau delivering highly expressive wines. Long owned by the Rendu family, it was acquired in 2012 by Jean-Michel Bonfils, whose family owns many vineyards across Languedoc.

Vignobles Bonfils – Château Capitoul
CRU LA CLAPE
His maternal great-grandparents moved to Algeria in the 1930s. His grandfather decided to purchase several Languedoc estates including Château Capitoul. Fourth-generation winegrower Charles Mock arrived here in 1983. Since 2011, the Bonfils family has been shaping the future of the estate and its 62 hectares of vines. One of the unique features is the winery, which is designed like the inside of a boat.